Discover more from FLATLINING from Fulcrum Strategies
Healthcare News and Analysis
"Enforcement discretion" and other absurdities
Plus: Biden's NIH pick held up by Sen. Sanders?
Good morning and happy Friday. Welcome to the Friday Pulse Check from Fulcrum Strategies. Obviously, the big healthcare news this week continues to be the fall out from CMS' guidance for the No Surprises Act. Ron and I discussed that on the podcast and you can find more on that below.
In the news:
Henry Ford Health and Ascension Michigan announce joint venture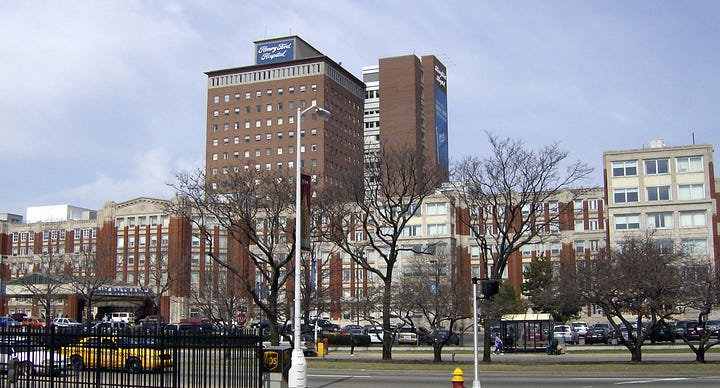 Two of Metro Detroit's largest hospital chains announced this week that they are working on a joint venture to provide care to the Motor City. It is not a merger as Ascension, one of the nation's largest delivery systems, will remain independent and only the hospitals in eastern and mid-Michigan are affected. It will create the lagest hospital system eastern Michigan by revenue. This comes after west Michigan based Spectrum Health and east Michigan base Beaumont merged to form Corewell Health in 2022 to become the state's largest hospital system. Read more from the Detroit News.
Biden's NIH pick has Senate confirmation hearing; derails into drug price arguments
Dr. Monica Bertagnolli, President Biden's pick to run the National Institutes of Health, finally had her confirmation hearing in front of the Senate Health, Education, Labor, and Pensions Committee this week. Unfortunately, after she was introduced, it immediately went into directions that the NIH has very little control over. Senator Bernie Sander's (I-VT) first question was about the high cost of perscription drug prices.
Speculation has abounded that Senator Sanders was the one who held up Dr. Bertagnolli's confirmation. He only appeared to consider the surgical oncologist when President Biden made a deal with Regeneron Pharmaceuticals to make a next-gen monoclonal anti-body treatment for COVID-19 that had a price cap. Read more in KFF Health News.
Other articles of interest:
Business News
Elevance (parent company of Anthem) confident it can close BCBS Louisiana deal - Becker's Payer Issues
LIVE Elevance stock price: ELV 0.00%↑
RiteAid closing nearly one hundred stores with more planned amid bankruptcy - CNN
Research News
Actor Michael J. Fox on how far Parkinson's research has come - STAT News
Research underway for the "Holy Grail:" A universal flu vaccine - American Council on Science and Health
Scientists may have found new breakthrough for advanced prostate cancer - InsideHook
California Watch
California bans common candy additives - News-Medical
HIPAA Violation of the Week
Healthcare websites continue to transfer data to big tech - Bloomberg 🔒
---
---
"Enforcement discretion" and other absurdities from CMS' No Surprises Act guidance
The FLATLINING Podcast from Fulcrum Strategies
We have fielded many questions from our clients this week and last about the new CMS guidance on the No Surprises Act. To quote what I said in the podcast, it is woefully unimpressive.
Even after Judge Kernodle told the Department of Health and Human Services to do it right three times, they still have refused to enforce a law that was passed with bipartisan support. The cynic in me thinks this is in part political: this was a Trump Administration law and it doesn't further the Medicare for All agenda.
It also could be incompetence. I pointed on the podcast that HHS Secretary Xavier Becerra is not a healthcare guy. He is not a doctor and he has never worked for a health plan or in a hospital. He was the attorney general of California. Does that give him good government administration experience? Sure, I'll give him that. Does it mean he understands outcomes the decisions he's making? I'm not so sure on that point.
Either way, it is the guidance until another lawsuit will be filed which will be inevitable.
So what do we expect to see going forward? Payers will likely slow down even more, now that they know they won't be penalized if the QPA is wrong. They will probably try and send more amendments to cut reimbursement rates to bring the QPA down when they do have to calculate it correctly (so watch your mail). And they will they will probably threaten termination if the provider doesn't accept the lower rates.
What should providers do? Be on the look out for those communications from the payers; don't just ignore mail. Be ready with a communication plan so you can explain to your patients and the public why a payer terminated you; don't let them run the story.
We have more thoughts and conversations on this week's episode of the podcast. You can listen wherever you get your podcasts, including YouTube.
Subscribe to the FLATLINING Podcast on Apple Podcasts, Spotify, the iHeartRadio app, Amazon Music, Google Podcasts, Stitcher, Pandora, TuneIn, and Audible.
---
With that, I hope everyone has a good weekend.
Matthew