Discover more from FLATLINING from Fulcrum Strategies
Healthcare News and Analysis
Cigna is up and Humana is down: Looking at Q3 profits
Plus: UHC and CVS laying off left and right
Good morning and happy Friday. Welcome to the Friday Pulse Check from Fulcrum Strategies. This is your weekly e-newsletter helping you stay connected to some of the healthcare issues that matter most.
In the news:
Q3 payer profits announced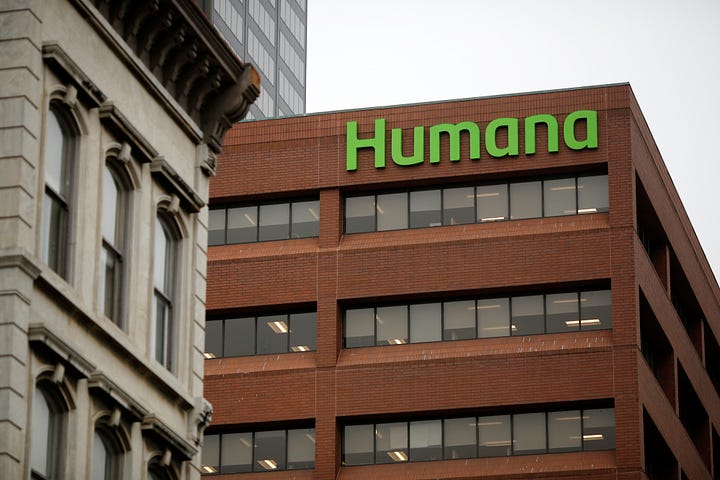 Several third quarter reports have dropped including Cigna's and Humana's. Now i should clarify from the title that Humana is not actually underwater and lost money in Q3. Rather, their profits have sunk year over year. Here is how much money they made:
Cigna
Q3 Profit = $1,300,000,000 (⬆️ 8.3% year over year)
Total members - 19,000,000 (⬆️ 9.2% year over year)
LIVE Cigna stock price: CI 0.00%↑
Humana
Q3 Profit = $832,000,000 (⬇️ 30% year over year)
Total members - 17,000,00 (⬇️ 0.8% year over year)
LIVE Humana stock price: HUM 0.00%↑
Humana is in the process of discontinuing its commercial plan and putting all of its chips in the Medicare Advantage and managed Medicaid plans. Its Medicare Advantage enrollment has grown 14.7% year over year.
Humana's profit numbers comes as the Office of the Inspector General released a report detailing $117 million in overpayments to CarePlus, a Humana subsidiary. Those payments were from the federal government and date back to 2015.
Former employees allege UHC violated the WARN Act
Two former employees of UnitedHealthcare filed a lawsuit on Monday, alleging that the health insurance giant did not give proper notice when laying off more than 1,000 employees in August. The plaintiffs' lawyers said in the filing, "Without informing terminated employees and members of the plaintiff class of their WARN Act rights to 60 days of notice or pay in lieu of notice, UnitedHealth solicited releases from the former employees, which provide less wages for many than the WARN Act notice requirements mandate," the plaintiffs' attorneys wrote. "In essence, members of the plaintiff class have been fraudulently induced to accept severance pay packages that provide less than 60 days of wages." Read more from Becker's Payer Issues.
LIVE UHC stock price: UNH 0.00%↑
CVS announces second round of layoffs
Similarly, the pharmacy retail giant CVS, which also owns Aetna, has amended some of its WARN Act filings and begun a second round of layoffs. In August the company announced 5,000 people would be out of a job. The new layoffs are in Illinois, Connecticut, Florida, New York, and New Jersey. Read more from Becker's Payer Issues.
LIVE CVS stock price: CVS 0.00%↑
Other articles of interest:
Nov. 1 is the first day of open enrollment this year for ObamaCare plans - KFF Health News
NYU Langone Health suspends two doctors over social media posts about Israel-Hamas war - The Messenger News
How the Nuka system has improved the lives of Alaska Natives - HEALTH CARE un-covered
High school vaping dropped this year - US News
California Watch: Masks are back in these six California counties - East Bay Times
HIPAA Violation of the Week: Medical management company to pay $100,000 following ransomware attack - Compliance Week
---
Who is Surest Health Plans and why have I gotten a UnitedHealthcare amendment for them?
If you're asking that question as a practice manager, then you might want to check out our podcast from this week. We received word that UnitedHealthcare is launching a new variable co-pay product under the name Surest Health Plans.
What exactly is a variable co-pay health plan? It means there is no deductible and no co-insurance. The only out-of-pocket expense the member pays is the co-pay.
Additionally, that co-pay could be different depending on where the patient goes. Jane Smith OBGYN may have a co-pay of $40 while the co-pay at Jane Doe OBGYN may only be $20. How can they be so different? It probably has to do with their fee schedules.
This is not the first time UnitedHealthcare has tried to incentivize patients to go to cheaper doctors. Last year, Ron and I discussed a plan from UnitedHealthcare to provide ratings for radiologists on their provider directory that were based almost entirely on arbitrary requirements. Physicians who had a lower reimbursing fee schedule would get a higher rating.
So what does this all mean for your practice? It means be on the lookout for amendments and be aware of market changes. And check out this week's episode of the FLATLINING Podcast from Fulcrum Strategies.
Subscribe to the FLATLINING Podcast on Apple Podcasts, Spotify, the iHeartRadio app, Amazon Music, Google Podcasts, Stitcher, Pandora, TuneIn, and Audible.
Or listen on YouTube:
---
---
Finally, as many celebrated Halloween this week and we are quickly approaching the Christmas season, it's good to take a second on Friday and just have a laugh. Here is a demonstration about how a nephrologist ruined Halloween:
---
Have a good weekend,
Matthew